HITLER VERTROUWDE OP BBC-NIEUWS IN ZIJN LAATSTE DAGEN
Geplaatst op 24 april 2005
A German army officer said that a week before the Nazi dictator killed himself they were relying on "enemy" news for Germany's defence.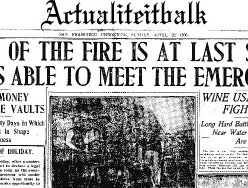 A German army officer responsible for drafting battle front maps for Adolf Hitler's daily briefings said that a week before the Nazi dictator killed himself they were relying on "enemy" news for Germany's defence.

Bernd Freytag von Loringhoven, one of a few surviving eyewitnesses from Hitler's bunker, said he had to improvise to keep the Nazi leader informed after the army's 400-man communications battalion fled en masse on April 23, 1945.
With the Soviet army closing in on Berlin and Hitler demanding reports on the fronts, Freytag von Loringhoven quietly began using news bulletins from Reuters and the BBC monitored in the bunker in order to piece together his briefings and maps.

"Our communications system had been excellent but after the battalion abruptly disappeared I knew I'd have to get news from elsewhere," said Freytag von Loringhoven, 91, in an interview at his home in Munich.

A decorated tank commander, Major Freytag von Loringhoven had a ringside seat to history - seeing Hitler at briefings for several hours a day between July 1944 and April 1945 as adjutant for General Heinz Guderian and later General Hans Krebs.

"The deputy press attach in the bunker Heinz Lorenz monitored Reuters on the BBC. After our own communications were lost, he started giving me their news reports. They contained useful information that we no longer had about the geographical locations of Allied advances in Germany and throughout Europe."

To supplement that intelligence for their maps, he and a deputy picked random names from a Berlin telephone book and rang up ordinary residents - as well as their own friends - living in outlying districts to ask if they had seen the Soviet army.

"I had to know what was happening and the Reuters dispatches were useful," Freytag von Loringhoven said. "I found I could trust them. They were concise and helped for the maps and military analyses. There was also some propaganda of course, but that was easy enough to ignore. I had seen more than enough of (Joseph) Goebbels's propaganda to know what lies looked like."

As Germany readies to mark the 60th anniversary of World War Two's end on May 8, the insights from Freytag von Loringhoven offer a new glimpse into the army's communications breakdown and Hitler's remarkable reliance on foreign news accounts.

Baron Freytag von Loringhoven, a tall and elegant man with a razor sharp memory who after 1956 held top posts in the West German Bundeswehr as a three-star general, laughs easily 60 years later at the irony of relying on reports from news organisations based in Britain to keep Hitler informed.

But when asked if Hitler himself was aware that Reuters and the BBC were the sources of news from the front during the final week of his life, the smile disappears - because to listen to broadcasts from the enemy was flirting with treason.

"No I didn't mention that," he said. "But Krebs knew and he trusted me."

He said the BBC's German language service read out almost hourly reports quoting Reuters accounts from the front lines.

While Germans have been critically examining their country's past for decades, the reflection accompanying this year's anniversaries is different - partly because generations actively involved in the war are at least 80 or no longer alive.

That may explain why Freytag von Loringhoven, an articulate aristocrat, has become an important eyewitness often included in German documentaries. He also served as an adviser for the film Der Untergang (Downfall), and recently co-authored a best-selling book about his experiences in the bunker published in France: "Dans le Bunker de Hitler.

He is by and large full of praise for the accuracy of the film, a box-office success in Germany, and defends it from criticism over its disputed portrayal of Hitler's human side.

"Hitler had many different faces," Freytag von Loringhoven said. "He could be kind. The Austrian charm would sometimes come through. He was always asking people about their health.

"But he was mostly ice cold and deeply distrustful of everyone," he added, recalling how he endured daily full-body searches in the bunker.

"He was especially cruel to army officers. He blamed them for everything."

With the Soviets just a few hundred metres away from the bunker on April 29, Freytag von Loringhoven managed to escape with two other aides through western Berlin and later reached his family in Leipzig.

He got Hitler's permission for a plan to try to get through the Soviet encirclement to reach German army generals west of Berlin. He said Hitler was fascinated by the plan, using a small boat on the Havel River, and bizarrely offered advice on getting a boat with an electric motor.

Freytag von Loringhoven saw the end was close a day earlier when Hitler was informed about a Swedish radio report that SS chief Heinrich Himmler was trying to pass word through a Swedish diplomat to the Western Allies that Germany was prepared to surrender. On the evening of April 28 press attache Lorenz showed a Reuters confirmation of that, Freytag von Loringhoven said.

"For Hitler, Himmler was always the most loyal and so when he saw that Himmler was sending feelers to capitulate it sent him over the edge," Freytag von Loringhoven said.

"If loyal Heinrich would betray him, Hitler knew it would be over within hours."

Two days later, on April 30, Hitler was dead and Freytag von Loringhoven, posing as a forced labourer from Luxembourg, was on his way to Leipzig. Later captured, he spent two years in a British prisoner of war camp before taking a publishing industry job in Munich.

"There were times I thought I wouldn't get out of the bunker alive," he said. "I've had a lot of good fortune in my life."